Posted on: 09/11/2020
Built  for Richard Hards and George Jacks of Pecheurs Eccosse Ltd, Sharon Anne provides a roomy and stable fishing platform with ample carrying capacity.
One of Sharon Anne's six-cylinder, Cummins QSL9 engines
The Maxus 12-metre design has been developed by builder G Smyth Boats, who have delivered a boat with an outstandingly high quality finish, both interior and exterior.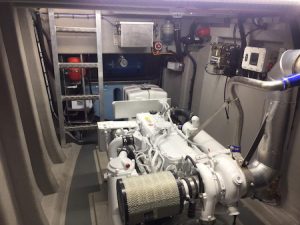 Each hull is fitted with a six-cylinder, Cummins QSL9 diesel turning a 34 by 36-inch four-bladed Hyperform prop on 2.5-inch shafts through ZF gearboxes with 3:1 reduction. Delivering 290hp at 1800rpm each, these engines provide an 8.50-knot cruising speed.
The engines and gears were supplied by South Shore Marine & Diesel of Oxford Island in Northern Ireland.
Each hull has a 1500 litre fuel tank, as well as freshwater tanks.
The engines also provide ample hydraulic power to a pair of SeaQuest 3-tonne trawl winches and a pair of 2-tonne net drums. There is also a landing winch to round out the deck equipment for the boat's trawl and creel fishing.
The refrigeration system was supplied by Cool Temp Refrigeration Markethill.